Welcome to Make
The place to come for all the latest information on making with Ultibo. We're putting together some great projects and information to kick start your ideas and showcase some of the things you can do with Ultibo, if you want to share your own projects you can post them in the forum and we'll also feature the best ones here.
Made with Ultibo
EMUZ80 RPI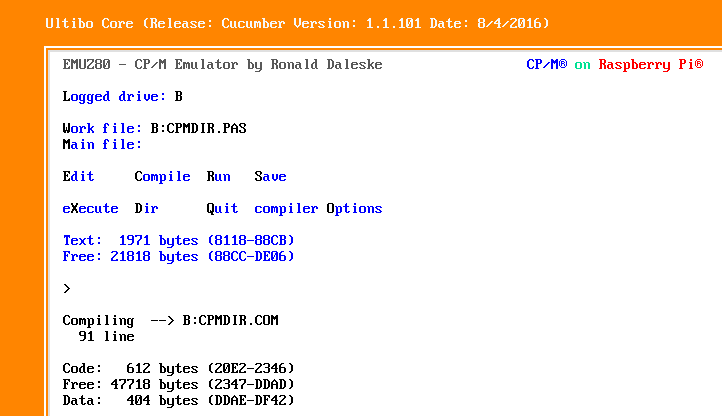 EMUZ80 RPI is a CP/M emulator for the Z80 processor using the Raspberry Pi.
Find more information including the source by visiting the project website
Ultibo Custom Font Creator
by Kerry Shipman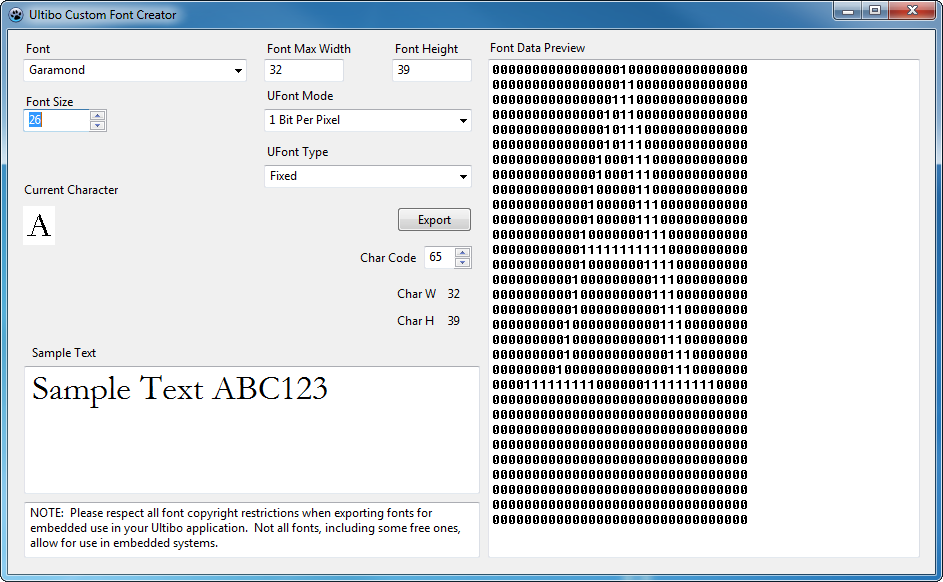 This one is more Made for Ultibo but it is still a great addition to your box of tools. Convert any font into a pascal unit for including in your Ultibo projects.
You can find both the source and precompiled binary in the Ultibo GitHub
LCD Display with Touch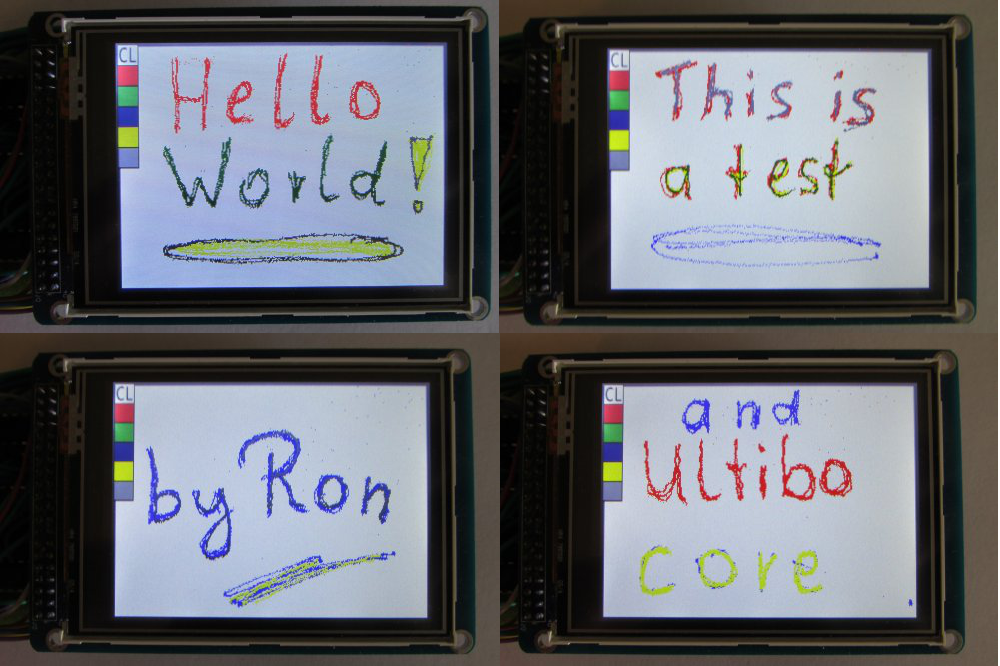 An amazing example of creating your own LCD display interface including touch support.
The project page provides all the details including a circuit diagram and source code.
Forums and Tutorials
Forums and Groups
Raspberry Pi forums – General usage and programming for Raspberry Pi
Raspberry Pi Bare metal forum – Discussion specific to bare metal (no OS) programming (Recommended)
Lazarus forums – Includes general Free Pascal programming forums
Pascal Programming
Object Pascal Tutorial – Very relevant to learning programming with Ultibo except for the graphics section
Bare Metal Programming
Baking Pi – A detailed online course in bare metal OS development on Raspberry Pi (Assembler language)
Bare Metal Programming in C – A 5 part tutorial in bare metal development on Raspberry Pi (C language)

Examples and Information
Bare Metal and Embedded
Circle – A bare metal environment for Raspberry Pi in C++
dwelch67 – A range of bare metal examples for the Raspberry Pi in assembler
PeterLemon – More bare metal examples for the Raspberry Pi in assembler
Xinu Pi – A port of embedded Xinu to the Raspberry Pi (C language)
Operating Systems
OS Dev Wiki – Lots of detailed information and references including ARM, Raspberry Pi and Pascal

Technical References
ARM Processors
USB
Bluetooth
Raspberry Pi
Versatile Platform Baseboard
Suppliers
Raspberry Pi and Accessories
Farnell Element14 – Raspberry Pi and others, add-ons, accessories and electronic components
RS Components – Raspberry Pi and others, add-ons, accessories and electronic components
Adafruit – Raspberry Pi, Arduino and others, add-ons, sensors, kits and components (USA)
Pimoroni Ltd – Raspberry Pi, Arduino, kits, tools, books and cases (UK)
Little Bird Electronics – Raspberry Pi, Arduino and others, kits, components, sensors and tools (Australia)